What is a Managed Print System?
If your workplace is managing a large population of unconnected output devices and you are looking for a way to track and measure your print environment then Managed Print Services is the solution for you. Not only will it help you to meet sustainability goals, but it will also help with the escalating costs of existing print infrastructure, identify hidden cost areas and reduce business costs in general.
Benefits
Through Managed Print Systems, our customers can:
Realise the Most Suitable Print Environment.
Uncover hidden costs for equipment, filing and processes.
Improve resource utilisation through device optimisation.
Reduce environmental impact on print.
Provide accurate total cost of ownership.
Strengthen the security of printing with network integration.
Protect intellectual property from security threats.
Ensure regulatory compliance and mitigate risk.
Support IT infrastructure and integration.
Leverage data encryption and overwrite.
Authorise and authenticate for proactive security management.
Increase agility through cloud and mobile technologies.
Business Process Automation and work-style change.
Deliver solutions that improve your business processes.
Reduce paper use and provide digital alternatives.
Provide ongoing analytics to drive performance and process enhancements.
Analyse paper use in its role as an information asset.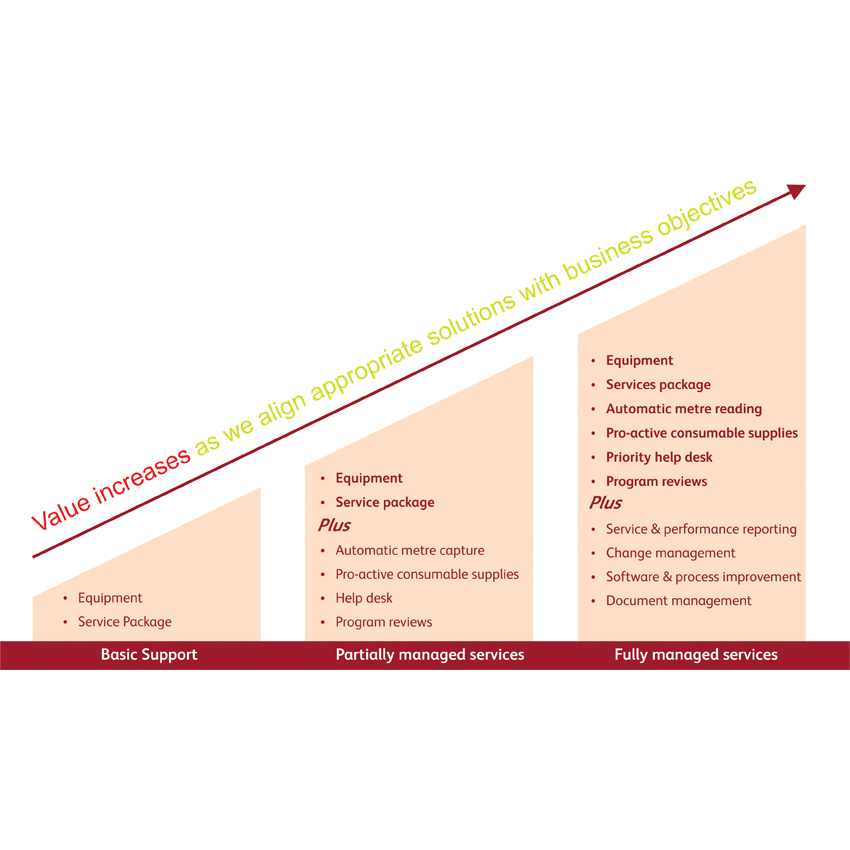 Features
Managed Print Services goes beyond print by leveraging technology and document management expertise with business process and IT outsourcing capabilities to increase business productivity, security, mobility and sustainability.
With our Next Generation Managed Print Services, we help our customers journey into digital transformation via a three-stage approach.
The first stage is Assess and Optimise, where Fujifilm experts use best-in-class tools and processes to access the maturity level of our customer's current print environment. From the maturity assessment, we will then propose various solutions that meet the needs of the customers with the overall objective to optimise their print environment, reduce their costs, and support their sustainability goals.
The second stage is Secure and Integrate, where our goal is to ensure smooth integration of our proposed services with the customer's IT infrastructure in a secure and compliant way along with enabling printing from mobile devices and providing print server management solutions.
The last stage is Automate and Simplify, where we help to improve productivity by automating paper-based workflows and increasing agility through the cloud and mobile technologies.